Zone: The Valiant Stride
Quest : Torque Showdown.
Bug: When i finish the dialogue with the NPC Commander Terrin Dalhearth, the other NPC star gathering around the circle , on chat NPC dialogue start, but the commander not start the combat sequence. Attack him first not do nothing.
I post a Sreenshot :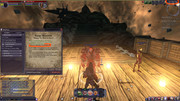 Edit: the NPC Commander Terrin is level 40 and the quest is level 10.