[The Valiant Stride] Quest - Torque Showdown
31-05-2019, 09:13 PM
(This post was last modified: 31-05-2019, 09:32 PM by Dragokan83.)
Zone: The Valiant Stride
Quest : Torque Showdown.
Bug: When i finish the dialogue with the NPC Commander Terrin Dalhearth, the other NPC star gathering around the circle , on chat NPC dialogue start, but the commander not start the combat sequence. Attack him first not do nothing.
I post a Sreenshot :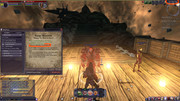 Edit: the NPC Commander Terrin is level 40 and the quest is level 10.
The Chat script was broken, so the hostile script was never triggered. This is now fixed locally and will be pushed with the next update.
Also, the NPC level is intended to be this high. You will find out why as soon as the fix is pushed

Users browsing this thread:
1 Guest(s)